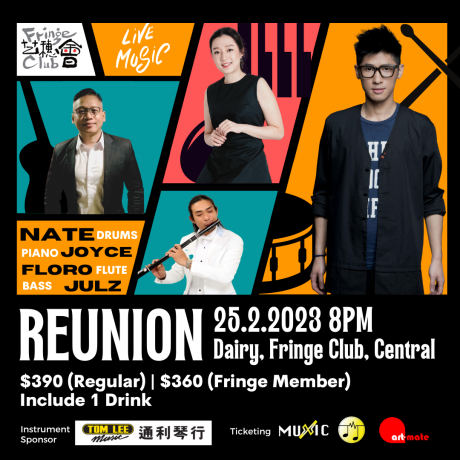 Music Concert, Jazz
Reunion by Nate Wong & Friends
LiveMusic - Music Concert, Jazz
Hong Kong Fringe Club

Sat 25-02-2023 8:00 PM - 1 h 30 m

Fringe Dairy

$390, $360 (Fringe Member) ; includes one drink
Tickets
Synopsis
Superstar drummer Nate Wong of award-winning band Nowhere Boys and Wong Way Down returns to the Fringe Club, a premier hotspot for Jazz with acclaimed Jazz pianist Joyce Cheung, flutist Floro and Julz on bass.
Performers
Nate Wong (Drums)
Joyce Cheung (Piano)
Floro Sernande (Flute / Percussion)
Julz Bernales (Bass)
Terms and Conditions
1. Latecomers are not admitted until a suitable break.
2. Programme and artists are subject to change without notice or refund, and Hong Kong Fringe Club reserves the right of final arbitration.
3. Inclement weather arrangement: If the performance may be affected by unstable weather conditions, Hong Kong Fringe Club will announce the arrangements 3 hours before the start of the event. Please refer to Hong Kong Fringe Club's social media and website for the latest information.