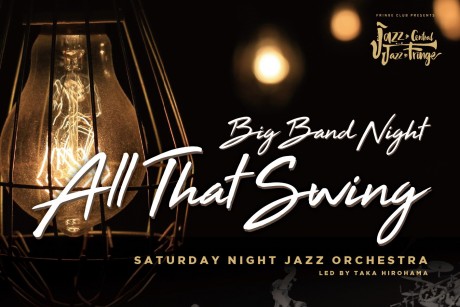 Big Band Jazz
Big Band Night - All That Swing
LiveMusic - Big Band Jazz
Saturday Night Jazz Orchestra

Sat 27-01-2018 9:30 PM - 2 h
Sat 28-04-2018 9:30 PM - 2 h
Sat 25-08-2018 9:30 PM - 2 h
Sat 27-10-2018 9:30 PM - 2 h
Sat 23-02-2019 9:30 PM - 2 h

Fringe Dairy

$150 (in advance, *Fringe members), $180 (on the day), $120 (**Student, Senior)
Tickets
Synopsis
Presented by the Fringe Club as one of the programmes in the "Jazz-Go-Central, Jazz-Go-Fringe" project, "Big Band Nights" feature various local jazz big bands.
The Saturday Night Jazz Orchestra, founded in 1990, is the most authentic Swing Big Band in Hong Kong. The band comprises 20 rocking musicians from almost as many nationalities. Led by Taka Hirohama, the SNJO has performed in many music and arts festivals, including "Spotlight Hong Kong in Penang" in June 2014.
Come and enjoy the unforgettable music of Count Basie, Duke Ellington, Benny Goodman and Bob Mintzer... because "If it ain't got that swing, it don't mean a thing." It's ALL ABOUT SWING!
28 April 2018 - Guest Conductor
In the concert "Big Band Night - All That Swing" on April 28, the big band will perform pieces arranged by Masaru Uchibori. He will also conduct a masterclass before the show. Click here for details.
http://www.bbjf.org.hk
https://www.facebook.com/groups/103519343032016/
Remarks:
Tickets will be available one month before each performance date.
Admission: 30 minutes before show time.
No outside drink or food is allowed inside the venue.
40 seats plus standing spaces. Seats are first-come-first-served.
*Fringe Club membership card MUST be presented at the door.
**Limited quota. Student card/ Identity card MUST be presented at the door.
"Jazz-Go-Central, Jazz-Go-Fringe" is financially supported by the Arts Capacity Development Funding Scheme of the Government of the Hong Kong Special Administrative Region
The content of these programmes does not reflect the views of the Government of the Hong Kong Special Administrative Region
Hong Kong Fringe Club reserves the right to change the programmes and performers
Enquiries:
Fringe Club (852) 2521 7251
jazz@hkfringeclub.com


See the entire album on Facebook »